2014-05-09, 22:03
GameSpy closure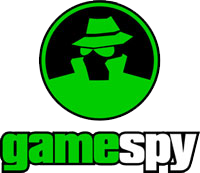 ---
---
GameSpy
was
a provider of online multiplayer and matchmaking middleware for video games. The company originated from a
Quake
fan site founded by Mark Surfas in 1996; after the release of a multiplayer server browser for the game,
QSpy
, Surfas licensed the software under the GameSpy brand to other video game publishers through a newly-established company, GameSpy Industries, which also incorporated his Planet Network of video game news and information websites, and GameSpy.com.
To the main piece of news..
Hundreds of video games - including those made by
EA
,
Ubisoft
,
Gearbox
,
Nintendo
,
Konami
,
Capcom
,
5th Cell
,
Koei
,
Firaxis
, and more - may be taken offline as Glu's GameSpy multiplayer servers shut down on May 31. This is devastating for thousands of players as many old games, which used GameSpy as a multiplayer server provider, will or may be dying out.
Full list of affected games
Reddit's compilation of affected games
If you find a game which you've played in the past, feel free to have a good time with it until the servers shut down. Relive your memories and let the great company rest in peace.
2014-05-09, 22:05
RE: GameSpy closure
I thought Gamespy shut down ages ago.
2014-05-09, 22:20
LFS-License: tommer

Normal Person

Posts: 715
Joined: Oct 2011
RE: GameSpy closure
Gamepy prematurely switched off the legendary tdu 1 servers in favour of the shitefest that was tdu2 in a desperate attempt to boost sales, and for that i say good riddance.
2014-05-09, 22:21
LFS-License: danielp1997

Resident Forum Stalker

Posts: 2,843
Joined: Oct 2012
RE: GameSpy closure
2014-05-10, 08:12
RE: GameSpy closure
GameSpy gaming news website shut down in Feb 2013. They had sold off GameSpy Technologies before that, so it lasted longer. That's why people may think GameSpy shut down a while ago.
2014-05-10, 11:42
LFS-License: mikebez

Constable

Posts: 3,449
Joined: Oct 2011
RE: GameSpy closure
Well no more ArmA 2 OA after the 31st Does this = no more dayz mod and other fun mods
2014-05-10, 11:46
RE: GameSpy closure
I think some games are trying to move to other servers.
User(s) browsing this thread: 1 Guest(s)