Bullitt 500 - Results And Feedback
2018-08-20, 17:15
[TC] World Profile: smallhail741

Posts: 749
Joined: Jan 2017
Bullitt 500 - Results And Feedback
Hi all,
Firstly I would like to apologise for the delay in the official posting of these results.
The official results are as below;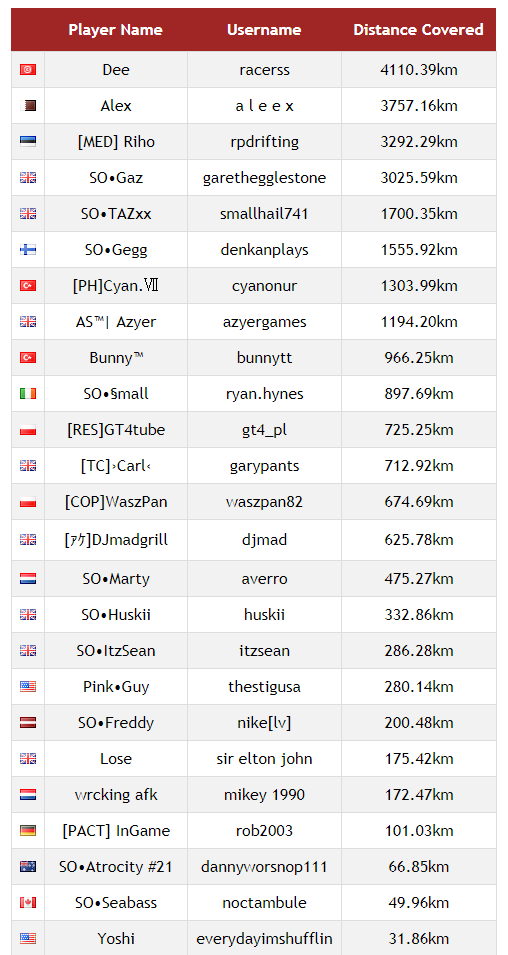 Many congratulations to Dee, Alex, Riho, Gaz and Myself for being in the top 5. Your prize money has already been sent, any issues feel free to contact any of the management team...
We would like to thank all who took part, helped with ideas, the team at [TC] for supporting us and advertising it in game and on the forum and the community as a whole.
Now, this is where we say to all of you, those who participated and those who didn't, what did you like about the event? What did you not like about it? Is there anything you would like to see added/improved? And of course, any general feedback which would help us if we decided to run this style of event again.
Thanks for your time, your feedback and support.
Street Obsessions Management.
Possibly Related Threads...
Thread:
Author
Replies:
Views:
Last Post
Bullitt 500 - Sign-Ups
Sebas
35
19,949
2018-08-17 23:02
Last Post: TAZxx
Bullitt 500 - Donation Tracker
Sebas
12
6,920
2018-08-17 21:09
Last Post: Charlie
Bullitt 500 - Official Announcement And Discussion
Sebas
15
8,267
2018-08-17 14:21
Last Post: TAZxx
Bullitt 500 - Final Reminder & Website Launch!
TAZxx
0
2,054
2018-08-15 23:48
Last Post: TAZxx
Bullitt 500 - Time Zone Update
TAZxx
0
2,003
2018-08-08 21:08
Last Post: TAZxx
Bullitt 500 - Progress Update & A Question
TAZxx
0
1,993
2018-08-02 21:44
Last Post: TAZxx
Open Recruitment | Final Results, A Return And Sneek Preview
Sebas
7
5,045
2017-03-27 19:53
Last Post: Botos
Open Recruitment | Fourth Week Results + News
Sebas
6
3,694
2017-03-11 22:30
Last Post: Botos
Open Recruitment | Third Week Results + Promotion
Sebas
6
4,232
2017-03-04 13:52
Last Post: Some1
Open Recruitment | Second Week Results
Sebas
7
4,887
2017-02-25 01:59
Last Post: Sonic
User(s) browsing this thread: 1 Guest(s)