Gumball 2019 - Track Announcement & Start Procedure
2019-07-14, 13:28
(This post was last modified: 2019-07-16 12:12 by Ice.)
LFS-License: Icecold1

Chief Constable

Posts: 1,106
Joined: Oct 2011
Gumball 2019 - Track Announcement & Start Procedure
---

TRACK ANNOUNCEMENT & START PROCEDURE
---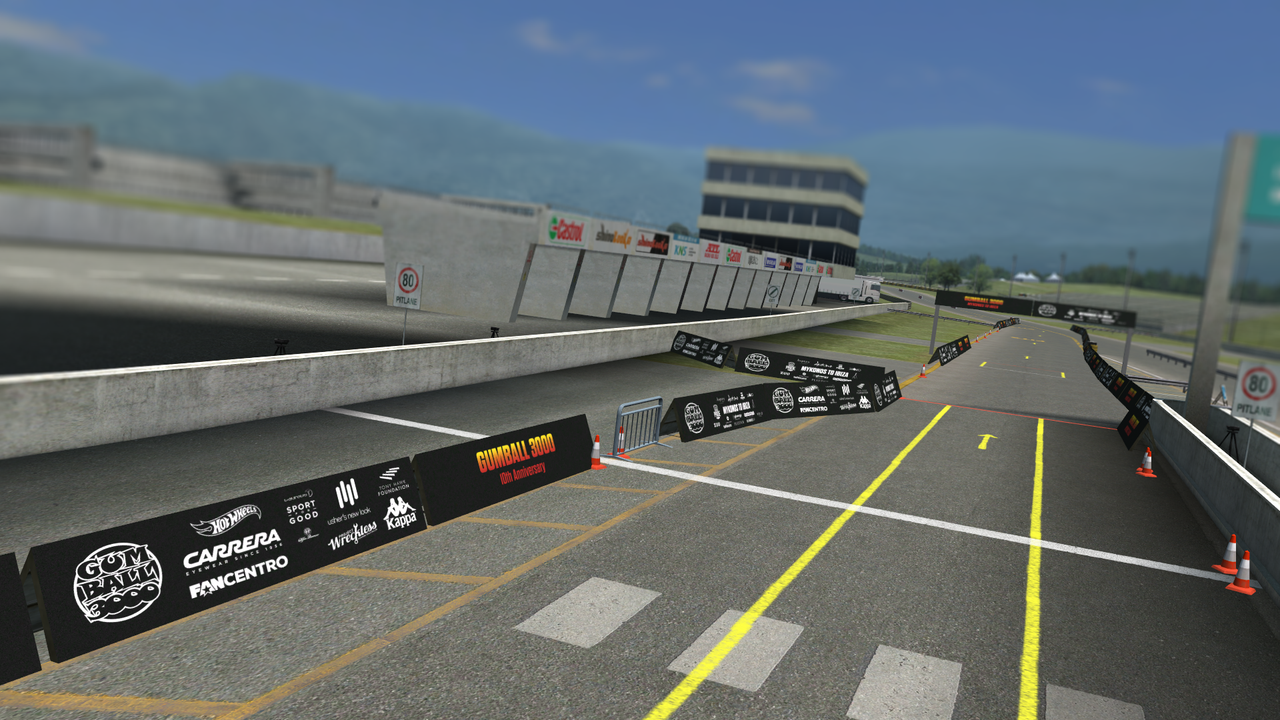 ---
Tracks Announcement
---
The 10th running of the [TC] CityDriving Gumball 3000 rally will start at Kyoto (Kyoto) on 2nd August and after 7 days, at 21:00 UTC+1 on Friday 9th August, we will switch to Blackwood (Blackwood), after that on 16th August we are switching to Weston Park (Westhill) for some city action and finishing the event on Montana (Aston).
Kyoto has never been a part of Gumball so we naturally wanted to start on it. Blackwood is a classic and was never in Gumball rotation, giving versatility to either drive around industrial area or race track. Weston Park was already a part of Gumball, but prior to being "renovated" and offers versatility and many different road possibilities. Finishing the event on Montana seems like a given, because everybody loves some Montana and it has always been a staple of Gumball, a real timeless classic.
The pitlanes at Highway 1 on Kyoto will host this year's starting grid and podium.
---
Start Procedure
---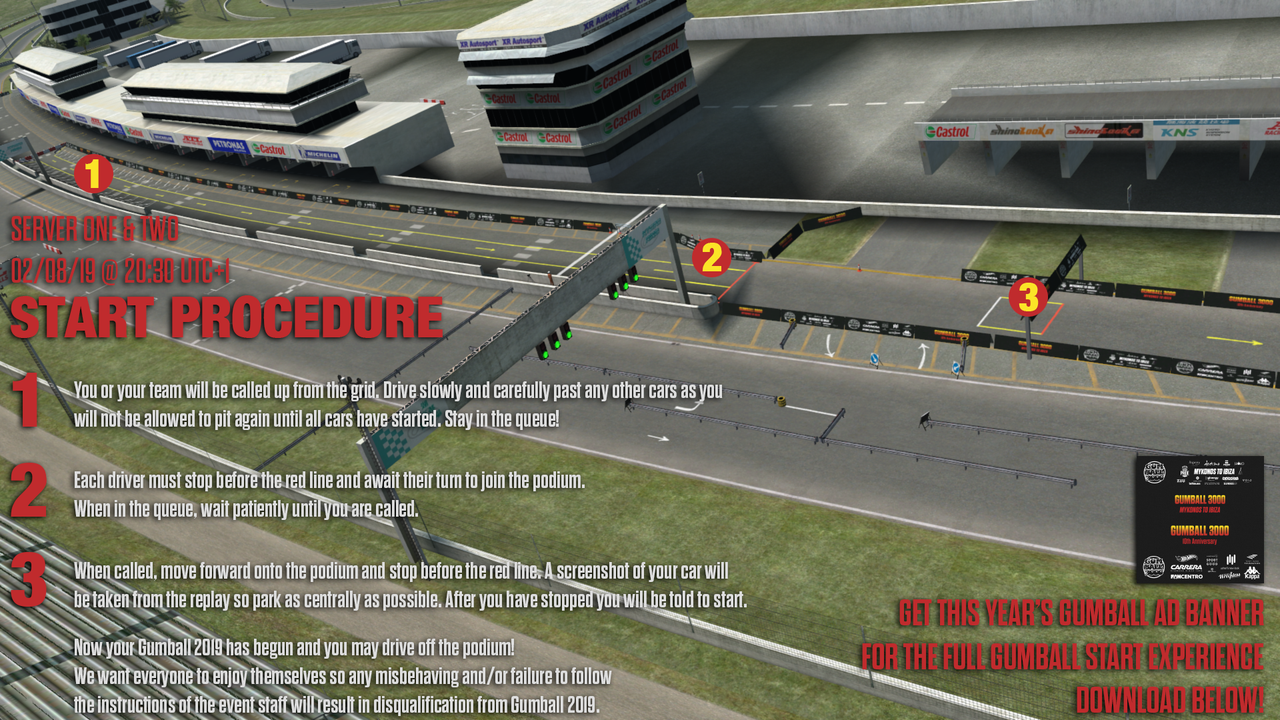 *Click image to enlarge*
This year we are running an organised start on server one and two. If you wish to participate on opening night you will need to be on the server by 20:30 UTC+1 so that we can brief you on the procedure and get the cars in order for the start. Your server password will be sent to you on the day of the event via private message on the forum.
Drivers will assemble in the grid area and will be called out team by team at 21:00 UTC+1. If you are on the server as an individual you will be called out after all of the teams have joined the queue. The order that teams are called out will depend on the amount of event donations that a team raises before the start time. In the real Gumball, the cars that leave the grid first are those who raised the most money for the Gumball charity in the run up to the rally. The team donation totals can be found on the Start Podium tab of the
Competitor and Donation Tracker
.
Please see the image above for the procedure we will be following to get the Gumball started!
Anyone who is on server one or two who is not in a team will start in a random order at the back.
Teams and drivers with server opening night access will be asked to obey all admin instructions for the duration of the starting procedure. Any misconduct will result in you being excluded from the start and disqualified from Gumball 2019. This is because the start of Gumball is stressful enough for event staff and ensuring everything runs smoothly relies heavily on your cooperation.
---
Official Ad Banner
---
For the full experience, please place this advertisement banner texture in your LFS/data/pic folder (AX_ADS1.jpg):
DOWNLOAD
If you download the ad banner, make sure you rename it to:
AX_ADS1.jpg
and place it in your LFS/data/pic folder.
User(s) browsing this thread: 1 Guest(s)