Thrustmaster Ferrari 458 Italia Wheel (X360/PC)
2012-07-27, 04:50
(This post was last modified: 2012-07-30 04:31 by Zipppy.)
Thrustmaster Ferrari 458 Italia Wheel (X360/PC)
Some people may be looking for a wheel for the Xbox 360, with the upcoming release of Forza Horizon, as there is a lack of good wheels out there (the Xbox 360 "wireless Speed wheel" is one of them crappy ones.), despite Fanatec's pricey CSR wheel.
The problem with the CSR is that it is expensive ($200), so you should obviously lower your budget bracket, if you don't want to shell out $200, and/or are a casual gamer wanting a wheel.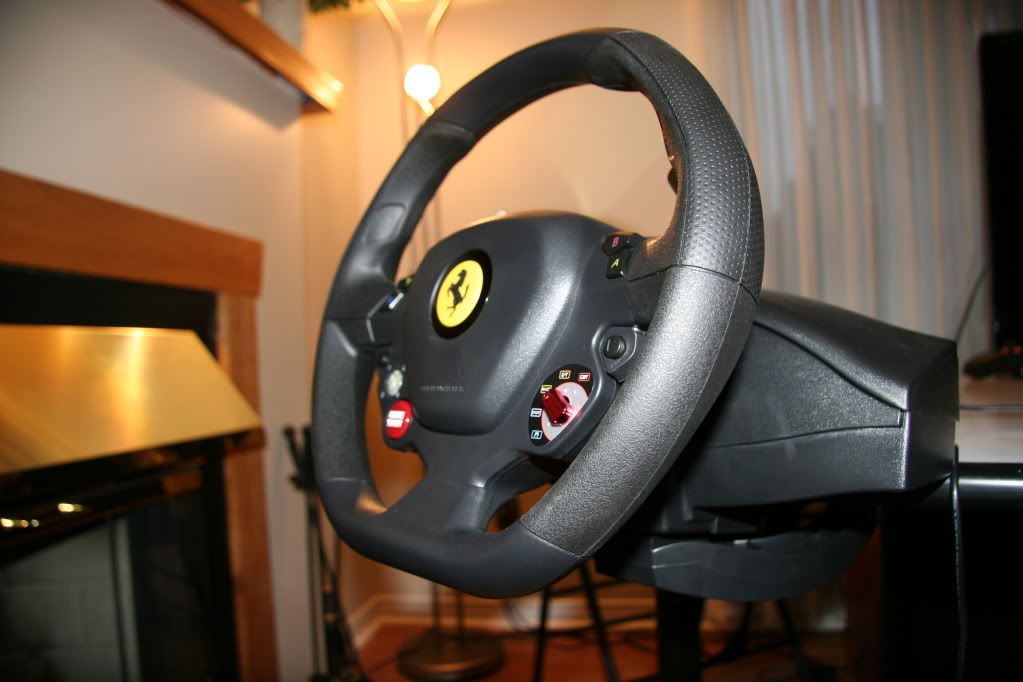 A great budget wheel for the Forza series and Project Gotham series is the Thrustmaster Ferrari 458 Italia wheel, which is 30% smaller than the wheel in the real car, and it is officially licensed by Microsoft, Ferrari and Turn 10 Studios.
It may not have the same build quality and features as the Fanatec, but it feels well built and gives just about the same feel the Logitech Momo Black provides on the PC, the grips feel rubbery and ergonomic, larger than the Momo itself.
The wheel itself has four buttons, which are the standard Xbox 360 A, B, X and Y buttons, along with Start and Back and the Xbox guide button. In this photo you can see the X and Y buttons clearly. same pattern goes for the A and B buttons on the other side.
Considering it costs about $100, half the price of the Fanatec. It lacks force feedback, part of the reason why it costs so little, a good chunk of the "price" might be from the "Ferrari" licensing. Instead of a force feedback motor, it is spring-loaded, and centers like the old Microsoft SideWinder Precision Wheel.
The paddle shifters are mapped to LB and RB respectively, they are made of metal and they have a feel that roughly (pun intended) resembles brushed metal.
The pedals feel great and they resist well.
Despite that praise, the pedal base has little or no weight to hold it down, or any carpet grips, so it has a great chance to be moved around a fair bit, compared to the G25 pedals I'm used to.
A cheap point in the wheel is the Engine Start button, the uninitiated would think it's to start and stop the engine of the car ingame, but don't get excited or fooled, this is actually a noisy and flimsy directional pad, which makes a loud click every time you move it.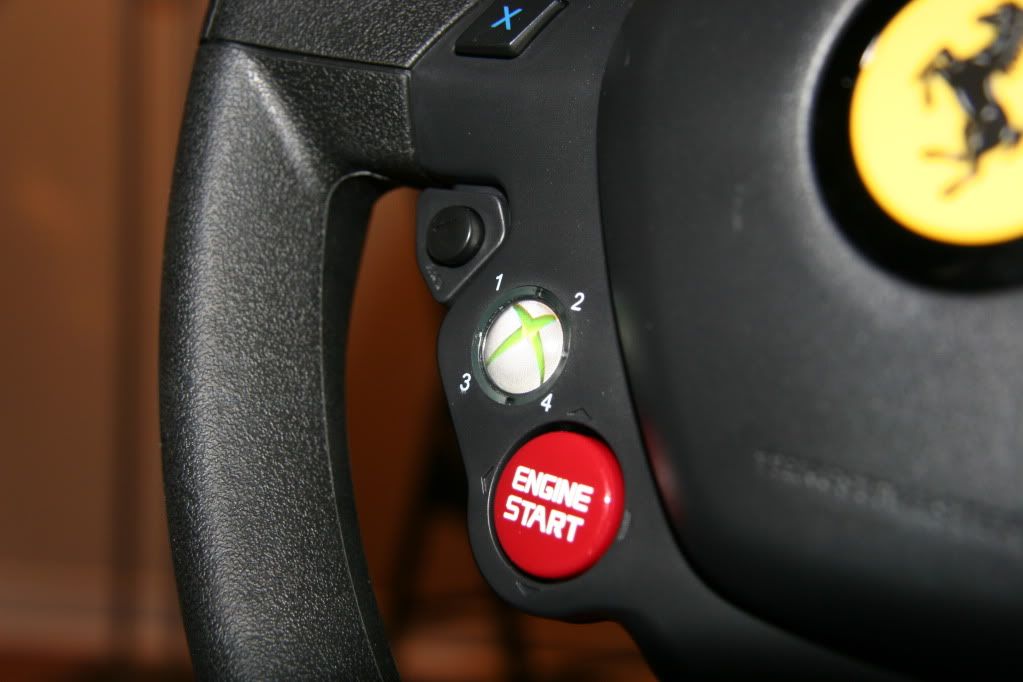 This would be the weakest point in the design of the wheel. In my opinion, they should have designed the D-pad to be more like a D-pad, not an Engine Start button. This "button" has confused a 7 year-old boy, and I have explained to him various times during his experience, that it is not the start button.
Keep in mind though, there are two more buttons behind the wheel that do the same as the left and right of the so-called "Engine Start" button.
The clamps on the 458 Italia wheel feel OK on a round table, but I haven't been able to test the clamps' grip on a rectangular table just yet, so I'll update this section once I've done so.
The Manettino dial, gives the impression it changes the car's driving assists, but you'd be wrong again. It only changes the view. This is yet another issue of officially licensed accessories themed after vehicles, you have buttons and switches that look alike to the real thing, but aren't very functional.
Another "hidden" feature this wheel has is, it can connect to the PC and work as a peripheral, like its higher-end counterparts do.
Bottom line: Great wheel, but don't expect to be blown away, it comes with little bells and whistles, but most don't function the way you want them to.
Wheel is 7/10 for me.
EDIT: There is a headphone jack, Images don't show it. it is behind the left side of the wheel.
2012-07-29, 20:24
LFS-License: N1PPER

More Awesome Than You

Posts: 146
Joined: Nov 2011
RE: Thrustmaster Ferrari 458 Italia Wheel (X360/PC)
Have you played Forza 4 with this wheel?

Might pick one up if it's good, for Horizon and Forza.

Also, you didn't mention it, does it have a slot for the xbox wired headset to plug into at all?
I have a
permanent
ban,
from the
[TC]
CityDriving
clan.
2012-07-30, 04:24
(This post was last modified: 2012-07-30 04:32 by Zipppy.)
RE: Thrustmaster Ferrari 458 Italia Wheel (X360/PC)
It does have a jack, I never thought such a feature could be useful, as I don't use it.

I've noticed the wheel in game in Forza 4 doesn't use the full 270 degrees, but I hope it's fixable. despite that, it works nicely. All assists are off except ABS for me.

PGR 4 smooths everything out, causing a small delay.
2012-07-30, 12:03
RE: Thrustmaster Ferrari 458 Italia Wheel (X360/PC)
Ive owned quite a few Thrustmaster wheels, and from experience i can say the clamping system is excellent. You can pretty much attach it to any table, desk or stand.
2012-07-30, 13:01
RE: Thrustmaster Ferrari 458 Italia Wheel (X360/PC)
I only managed to remove it while clamped while shaking the wheel up and down a lot, could be partially because of the table being plastic and round. Another thing I just noticed, it has some holes in the pedals to screw it into a Playseat or something like it.
2012-07-30, 17:44
(This post was last modified: 2012-07-30 17:45 by SLiiDE.)
RE: Thrustmaster Ferrari 458 Italia Wheel (X360/PC)
The wheel also has hard mount spots too i believe.
User(s) browsing this thread: 1 Guest(s)