End of Year Event Series 2013 - Rules
2013-11-14, 15:26
(This post was last modified: 2013-12-16 10:21 by Pete.)
[TC] World Profile: MButcher

[TC] Team Leader

Posts: 12,080
Joined: Sep 2011
End of Year Event Series 2013 - Rules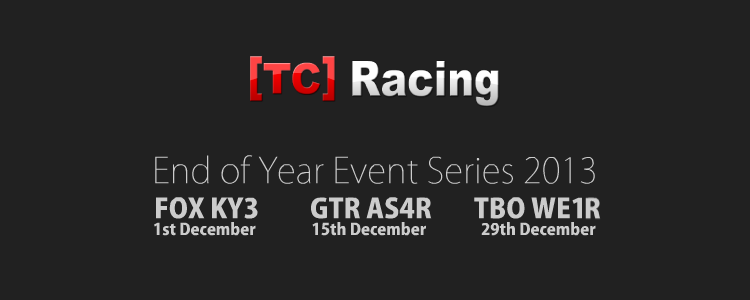 ---
Rules
All times are in GMT/UTC
---
Series Rules
1
If you sign up, turn up. If you cannot attend any races, please make sure you contact one of the event organisers prior to the event.
2
You must obey the rules of the
Clean Racers Club at all time.
3
If your ping is higher than 0.20 you will be asked to leave the server so that it can continue free of lag.
4
The deadline for signing up is one hour before the last race. 6pm on Sunday 29th December 2013.
5
You must qualify with 107% of the top time in qualifying in order to compete in the race. E.g. if the top time is a 1:26.00, you must post a time of 1:32.02 or less in order to be allowed to race.
6
Chat will be closed during qualifying and race sessions. Every line of chat will result in a 1 point penalty.
---
Threads
Information
Rules
Race Calendar
Sign Up
Server Details
Prizes & Donations
Results, Replays & Standings
Spreadsheets
Entry List
Prizes & Donations
Possibly Related Threads...
Thread:
Author
Replies:
Views:
Last Post
End of Year Event Series 2013 - Round Three Discussion
Pete
9
4,738
2013-12-30 01:02
Last Post: Pete
End of Year Event Series 2013 - Prizes & Donations
Pete
4
3,270
2013-12-30 01:02
Last Post: Pete
End of Year Event Series 2013 - Results, Replays & Standings
Pete
3
3,469
2013-12-29 23:27
Last Post: Pete
End of Year Event Series 2013 - Protests
Pete
4
2,992
2013-12-29 21:52
Last Post: Pete
End of Year Event Series 2013 - Sign Up
Pete
49
18,673
2013-12-29 19:54
Last Post: speed12161
End of Year Event Series 2013 - Round Two Discussion
Pete
46
23,800
2013-12-16 18:57
Last Post: Mikee
End of Year Event Series 2013 - Round One Discussion
Pete
54
24,061
2013-12-04 00:00
Last Post: Pete
End of Year Event Series 2013 - Information
Pete
1
2,363
2013-11-23 03:03
Last Post: Pete
End of Year Event Series 2013 - Server Details
Pete
3
3,204
2013-11-14 20:02
Last Post: Savy
End of Year Event Series 2013 - Race Calendar
Pete
0
2,084
2013-11-11 20:38
Last Post: Pete
User(s) browsing this thread: 1 Guest(s)
Powered By
MyBB
, © 2002-2022
MyBB Group